Download your
Buyer's Guide today
Imagine owning your very own holiday home.
Holiday home ownership, made simple and accessible.
Are you ready to make your dream of owning a holiday home a reality?
Our comprehensive Buyer's Guide has everything you need to know to make
an informed decision with expert tips and advice on holiday home ownership.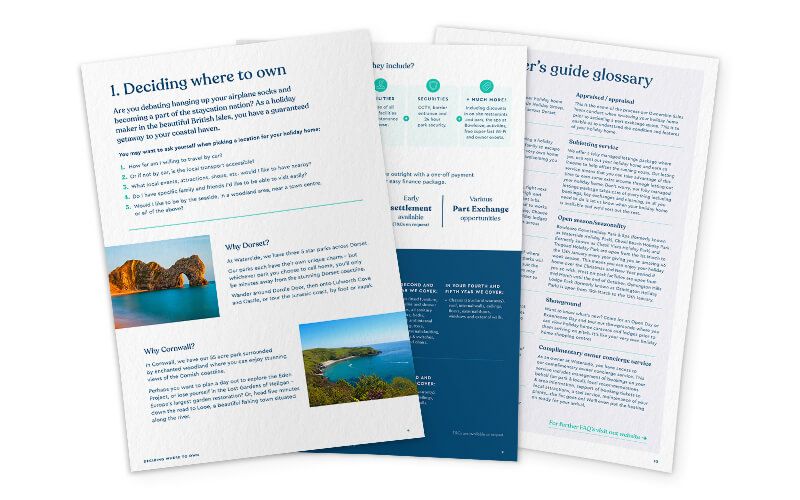 3 things you'll discover in this guide

Help on deciding where to own
Debating where to own your holiday home? We're biased - but Dorset or Cornwall could be the perfect spot for you. We share the important questions you might want to be asking on your visit.

Experience Day considerations
What is an Experience Day? It's a chance to fall in love. Enjoy a free lunch on us* when you view our pitches & holiday homes with our experienced sales team. Read our guide to understand how these visits can benefit you.

Understand your finances
Sensible budgeting is important to talk through, and we'll ensure you make affordable choices that work for you. Our guide covers a range of finance queries you may be considering.
Nothing compares to a holiday in a space you can call your own.
Offering luxury living by the coast, Waterside focuses on what matters most; an understanding developed over generations of running holiday parks. With more than 700 owners across four 5* parks, find out why so many holiday home owners love Waterside.

Sign up today to receive your holiday home Buyer's Guide.
Ready to take the first step towards owning your holiday home? Complete the short form below – and your guide will be with you shortly. If you have any questions, please feel free to give our sales team a call on 01305 836 836.