Discover a new rural hideaway in 2023
Inspired by nature, but defined by luxury, this year at Tregoad Holiday Park in Looe, we will welcome 12 new owners into an exclusive, gated development of luxury lodges. With every holiday home offering a view to spark adventure, from an interior that provides a resplendent retreat. Your rural hideaway awaits you.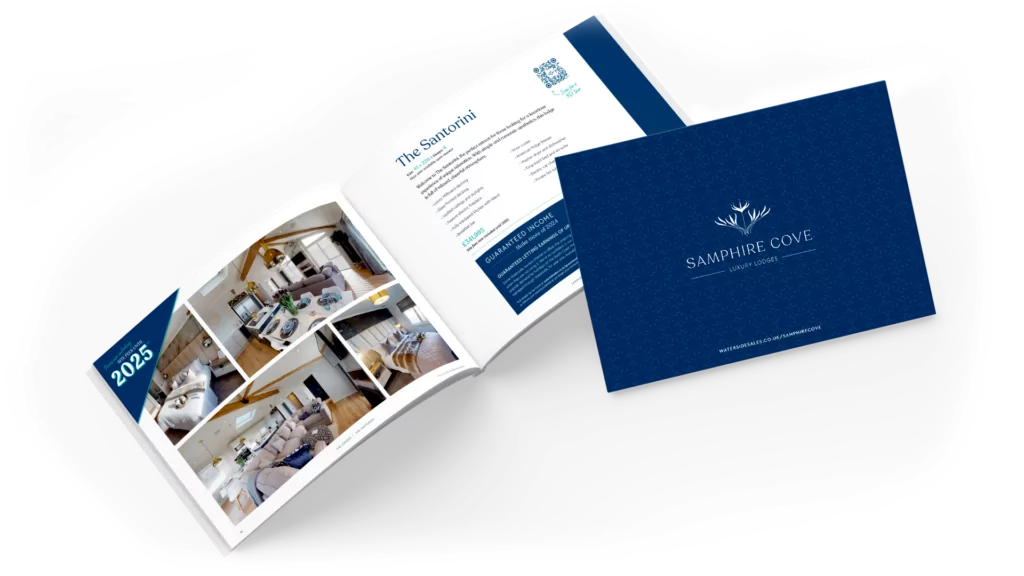 Terms and Conditions
"We", "Our" or "Us" means The Waterside Holiday Group acting as Bowleaze Cove Holiday Park & Spa or Tregoad Holiday Park acting as an agent on your behalf to let your Holiday Home.
"Holiday Home Owner(s)'', "Owner(s)", "You" or "Your" means the person(s) named on the sublet agreement, "Holidaymaker(s)", "Guest(s)" means person(s) hiring the "Holiday Home", including their guests,
"Holiday Home" means the Holiday Home identified on the Guaranteed Letting Scheme Agreement.
"Park" means the holiday park where the "Holiday Home" is located.
The Holiday Home Owner appoints the Park Owners as sole agent for the purpose of letting their Holiday Home for the dates & season detailed on the agreement, and by participating in the Guaranteed Letting Scheme for holiday lodges on The Stables and Samphire lodge developments at Waterside Holiday Group, you agree to do so on the following terms and conditions:
GUARANTEED LETTTING SCHEME TERMS & CONDITIONS
APPLICABLE DATES: The Guaranteed Letting Scheme is available to selected new customer new Lodge purchases and not applicable to part-exchanges or private sales and is available between 29/03/2024 to 25/10/2024. To allow Waterside adequate opportunity to market the accommodation, we require a minimum of 6 months lead-time.
MINIMUM & MAXIMUM NUMBER OF WEEKS: To qualify for the scheme, you must sign up for and fulfil a minimum of 3 weeks up to the maximum of 18 weeks at Samphire Cove and 25 weeks at the Stables.
DATE AMENDMENTS OR CANCELLATIONS: Subject to availability i.e. ONLY if no booking has yet to be secured for the accommodation, you may request in writing to move the allocated weeks to alternative dates or even withdraw the date for personal use. We will accommodate such requests where possible however this cannot be guaranteed.
PAYMENT OF GUARATEED INCOME: Based on the grade of your Lodge and the weeks selected by you up to the maximum as defined above, we will credit your Owner Account rent ledger with the specified amounts by 30th November 2024. Under the Guaranteed Letting Scheme, you receive the guaranteed amount for the selected week irrespective of The Waterside Group securing a booking for your accommodation or not.
EXCEPTIONAL CIRCUMSTANCES: In the event of a regional or national lockdown or any event that results in the temporary closure of the park, we reserve the right to void the agreement and end the Guaranteed Letting Agreement between yourself and Waterside Holiday Group, and we shall not be held liable for any losses or damages incurred as a result
CHANGES TO THE SCHEME: Waterside Holiday Group reserves the right to withdraw this offer, amend or modify these terms and conditions at any time, with any changes being communicated to you in advance. It is your responsibility to review and familiarise yourself with the most up-to-date terms and conditions.
GENERAL TERMS & CONDITIONS: The general terms and conditions that apply to all rentals on our Park also apply to the Guaranteed Letting Scheme. These terms and conditions govern the subletting process and outline any additional requirements or obligations that you must adhere to when subletting your holiday lodge
GENERAL LETTING TERMS & CONDITIONS
HOLIDAY HOME OWNERS PART
• As we are acting only as an agent to let out your Holiday Home, it is your responsibility to ensure that the Holiday Home is adequately insured against loss, damage and third party liability. Proof will be required.
• Ensure that your Holiday Home is fully equipped and that the inventory is all matching in white or cream and meets the criteria detailed on p.10. of the Waterside Holidays Letting Service brochure, copies of which are available from Reception.
• Only items detailed in the inventory list in this publication may be left in your Holiday Home. We cannot replace or take responsibility for any items not on the standard inventory list. Therefore, you must remove ALL personal items, including any guest information folders, ornaments, decorative items, games, books, DVD's, visitor or tourist information books.
• Provide a minimum of a 42" Smart TV in the lounge, TVs in ALL bedrooms & an appropriate TV Licence covering your Holiday Home.
• Maintain the exterior of your Holiday Home including steps, veranda & outside furniture.
• To ensure adequate annual safety testing on the Gas & Electric installations in the Holiday Home, PAT testing and Fire Extinguishers is carried out. (We will need evidence of this by adequately qualified contractors or we can arrange on your behalf for a charge). We require certificates for these before letting can commence.
• To carry out or authorise any maintenance, repairs and specialised cleaning required.
• If you are a dog owner, we require that your accommodation is let as 'Dog Friendly'.
• Ensure that a payment method is set up for site fees and rates. Insurance must be paid before any letting commences.
• To make your own arrangements to pay any VAT that you may be liable to pay HMRC from the earnings received.
• To expect that wear and tear to your Holiday Home will happen and that accidents/damage may happen during periods of rental. As the Holiday Home Owner you are responsible for the costs arising as a result.
OUR PART
• To carry out the marketing, administration and services detailed in the 2023 Letting Service brochure on your behalf.
• Replace any letting inventory as detailed in the Letting Service brochure covered by the FREE Inventory Top Up Scheme.
• We reserve the right to carry out all repairs and replacements (below the value of £150) to maintain the standards required and to charge all expenses for this to your Owner account. We will endeavour to contact you prior to work being carried out.
SITE FEES INCLUDED
• Relevant for all holiday homes purchased exclusively from Waterside Group Ltd on our new Samphire cove at Tregoad Holiday Park and The Stables at Bowleaze Cove Holiday Park. All sales must sign up & complete between 1st August 2023 & 31st December 2023. Offer may be withdrawn any time, and will then only continue to apply to any sale which has been signed up at that point. Not in conjunction with any other offer. Not available at Chesil Beach or Osmington Mills. Not available for other pitches at Tregoad Holiday Park & Bowleaze Cove. Not available for any holiday home which is not purchased from Waterside Group Ltd, for example pre-owned holiday homes purchased from their current owner.
• "Signing up" means signing the contract paperwork in a hosted Welcome Meeting & paying the required deposit. Completing means paying in full all costs associated to the purchase of the holiday home.
• If you take advantage of this offer then your licence agreement will tell you the site fee for 2023, and how this will be reviewed for future years. However, you will not be billed for 2023. For 2024, our automated billing processes will send you a bill but we will immediately credit your account with us for exactly the same amount. You will pay no site fees for 2023, or 2024.