About Ownership
Buying Process
Holiday home ownership with the Waterside Holiday Group is easier than you think…
We help you through a few simple steps and before you know it you will be moving in and enjoying a dream lifestyle.
We know that the world of holiday home ownership can seem a little daunting, especially with all of the industry jargon! We strive to make your holiday home ownership journey as simple as possible, that's why we've created our jargon buster. Packed full of useful terms that will be in the paperwork, brochures that you'll go through in this process – but simplified! Download now!
Download our jargon buster
Step 1 
Experience your new lifestyle
There is no substitute for experience. Book your Experience Day to explore the parks and facilities, ask lots of questions and then relax and have lunch.
Step 2
Fall in love
Our parks enjoy spectacular coastal views and stunning countryside. With fantastic facilities and desirable holiday homes we promise you will fall in love.
Step 3
Budget sensibly
Our holiday homes are designed for pleasure with exceptional value and maintenance built in. However, we still ensure you make affordable choices that work for you.
Step 4
Choose your home and location
Time to choose your beautiful holiday home and an available location. Whether you are looking for sea views or an enchanted woodland, this is when you turn your dream into a reality.
Step 5
The financials
Pay a deposit and arrange a date to financially complete the purchase. We have all the experience needed to make reaching your dream destination feel easy.
Step 6
Welcome to holiday home ownership
Move in and enjoy your fabulous new lifestyle within 3 weeks! Get exclusive homeowner benefits and start making a lifetime of treasured memories.
Choosing your perfect holiday home and location
Today, you choose your holiday and your pitch location separately. We help you, every step of the way, to make the right choices. The result is a holiday home that's perfect for you and your family to relax in and enjoy.
Our holiday homes provide the complete package. Stunningly designed and beautifully finished and furnished for you. Plus, if you decide to sublet, to earn additional income, they are desirable to other holidaymakers as well.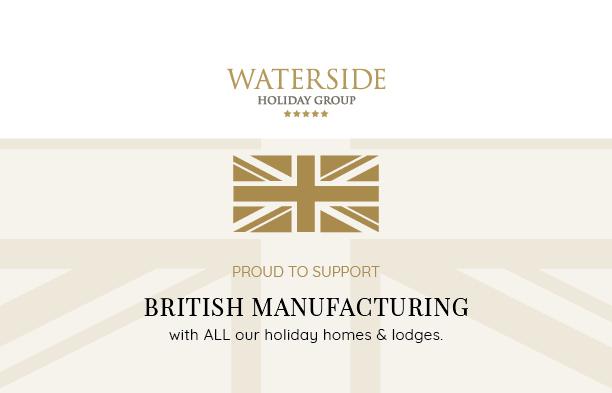 We are proud of our long-standing relationships with all the leading manufacturers built over the last 57 years. This means we can showcase a huge variety of beautiful holiday lodges. So, you can see the very best craftsmanship and be inspired by designs which are both sympathetic to the environment and meet your needs. We are also keen to support the local economy, which is why we are proud to support British Manufacturing by ensuring all our holiday homes and lodges are made in the UK.

Book your experience day to see the choice for yourself and find out why so many holiday homeowners love Waterside Holiday Parks.
Finance options
At the Waterside Group you can purchase your new or pre-loved holiday home outright with a one-off payment or join the majority of our customers in taking our easy funding package.
Low fixed rate APR
Term from 24 months to 120 months *
Early settlement available *(T&Cs on request)
Choice of lenders
*maximum age limit of holiday home applies
Owner Benefits
As an owner you'll receive a whole range of benefits exclusively for you. To share a few;
Up to 15% off park purchases
Access across all three park facilities
Exclusive owner's events
Complimentary Spa experience
We'll even put your heating on in the Winter months before you arrive!
Letting
You can take advantage of our fully managed letting service, benefits include;
Fully flexible booking dates
One set commission rate of 21% + VAT
Key handling service
Complimentary minor inventory top up
We'll take care of everything – booking, cleaning, repairs, check in and check out.
Our experienced on park team will able to answer any questions.
CALL 01305 836836